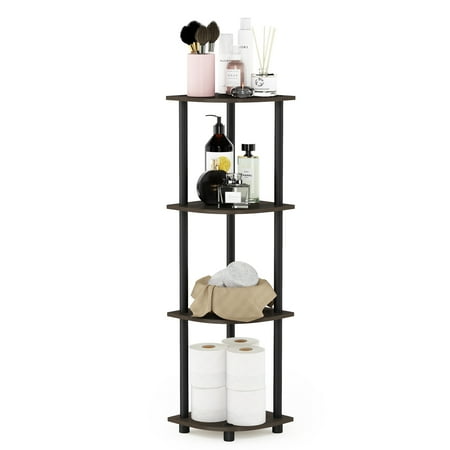 The open display rack and shelves provide easy storage and display for decorative and home living accessories. Suitable for rooms needing a vertical storage area. Designed to meet the demands of low cost, but durable and efficient furniture. It's proven to be the most popular RTA furniture due to its functionality, price and no-hassle assembly. It features a smart design that uses durable recycled PVC tubes and engineered particleboard to withstand heavy weight. Just repeat the twist, turn and stack mechanism and the whole unit can be assembled within 10 minutes. Experience the fun of DIY, even with your kids.
Model Number: 12077 Turn-N-Tube 3-Tier Reversible Corner Display Rack Multipurpose Shelving Unit
Comes in multiple color options for easy customization to fit in your room design
Simple stylish design yet functional with ample storage space and suitable for any room. Fits in your space, fits on your budget.
Recommended maximum weight capacity of 20 pounds per shelf.
Assembly made easy with clear step by step manual instructions. Visual added in assembly instructions to help with better understanding.
Care Instructions: Wipe clean with clean damped cloth. Avoid using harsh chemicals.
Product Dimensions: 16 (W) x 3 (H) x 12 (D) Inches.
Pictures are for illustration purposes. All decor items are not included in this offer.
Customer Reviews
Perfect fit!
I needed this shelf for my apt dining room to display some nick knacks and this fit perfectly. It doesn't take up too much space and looks beautiful. I get complimented on it a lot. I will definitely order this again!Kryketkay00

I liked the fact that it was so easy to assemble. It was the perfect height for a short person under 6 feet to put things on it. I used the wall safety connection because the weight of my collection of perfume bottles would be broken if it fell forward. It fit perfectly in the corner and didn't impede the opening of my closet door.The account is in my husbands name Wes and this unit was for me, the wife.Wes
Stylish and easy to put together
This item was super easy to assemble and it looks awesome. The price was good and I purchased a pair they go really well in my dining room area.Kia305
You may also be interested in