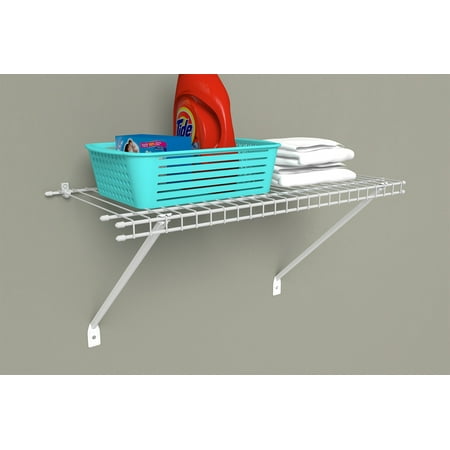 Add storage space to your home using this ClosetMaid® Multi-Purpose 2ft Wire Shelf Kit. It's the ideal solution to your organization needs. This ClosetMaid® wire shelf kit can be hung on the wall in the room of your home, office, dorm or any other area that requires more storage space. It's a lightweight, white shelf that should match most room decor. This space saver is easy to install and offers a weight capacity of up to 30lbs so you can store several rarely used items or parts and papers you'd like to keep on hand.
Multi-Purpose storage solution ideal for any room in the home, office, or garage
White Vinyl-Coated Steel Wire.
Customer Reviews
2ft Wire Shelf
This 2 ft. Wire Shelf Prepack that I got to try
for free from Walmart Spark Reviewer comes in
handy. I love it. You can use it for anything but
I'm using mine as a bird cage holder for now.
I've only really thought of these wire shelves
for like apartment living only but these wire shelves
Can be used anywhere really. Bath rooms, sheds.
Not just for closet use. It's pretty sturdy. I really
like it and highly recommend these. I will definitely
be buying these in the near future.
It is handy for so many things from storing clothes,
towels, books, storing boxes. Nothing too heavy-heavy,
of course. I would give it a 10 star if I had
that choice but I'll give it definitely a five-star.
Here is a couple pictures to show you. Thank
You Wal-Mart Spark Reviewer for letting me
get to try this for free before I buy! It will definitely
come in handy now and in the near future!ardawd
Good!!
This shelf kit is really nice, we used in addition of some we have in our laundry and works perfect. Resisting and strong enough to hold detergents and laundry stuff. I highly recommend this shelf to everyone.Roxana32
Amazing product
Just what I was looking for, sturdy I put it behind a standard door with a little space on both sides! I am very pleased! Will order more!Jcunder